When your MacBook Pro is not turning on or it seemsto be dead, it can be a stressful and frustrating experience, whether you have an important presentation to give or a deadline to meet, it seems that these types of problems always seem to occur at the most inappropriate time. Apple devices are generally considered to be reliable, however, it is important to keep in mind that every device is prone to experiencing issues or problems at some point.
Reason Behind MacBook is Not Turning On
There could be many causes for your MacBook Pro not turning on or dead. For instance, it can be because of a faulty power cord, a faulty charging cable, or a hardware or software issue with the device.
Don't be concerned! Follow these tips to figure out what's wrong with your MacBook pro. Even if you don't consider yourself a technical person, you might be able to fix the problem yourself with the help of these tips.
Tips to fix MacBook Pro Dead or Not Turning On 
1. Check blank screen
A black screen is a common laptop issue not limited to Apple. Before you do anything else, double-check that you haven't accidentally set the brightness to zero. 
The top of the keyboard has two keys with sun icons on them. The first is to darken the display, and the second is to brighten it. Although most laptops will not go black when using this setting, it must be confirmed. Continue if changing the brightness does not affect the black screen. Please turn off the laptop, disconnect all attached peripherals, and restart it.
Is there any whirring? Are there any beeps? Noises from the fan? If you hear something but see nothing, the problem could be with the screen, not the laptop. If you don't hear anything, you should troubleshoot further.
2. Boot to recovery mode
If you hear noises and receive feedback while performing actions, but the screen is black, you can try booting the MacBook into Recovery Mode to repair any problems it may be experiencing.
To boot into Recovery Mode, press the Command + R keyboard combination. If this action works, you should see the macOS utility screen. Reboot your MacBook if Recovery Mode is successful and it should start normally. If not, keep reading there could be other issues.
3. Ensure your Mac has power
Connect your MacBook Pro charger to the laptop and the wall socket. Check that both connections are secure. Ensure that the power cord is not damaged. If nothing happens, try another wall socket or double-check the one you're currently using with another device.
Check the power cord or adapter to see if the outlet works. If you can borrow a spare for five minutes, go ahead and do it. Continue troubleshooting if the laptop still does not work with a different charger.
Make sure to use Apple-branded cables if possible. Some third-party charging cables require little amperage to power your device properly, or the wires are brittle inside and could be damaged. Using the cable and charging block that came with your device could be the key to turning on your MacBook Pro.
3. Go through a power cycle
The next step is to go through your MacBook Pro power cycle. Although it may appear illogical, this is a simple solution that works most of the time.
Plug your MacBook Pro into its charger and hold down the power button for at least ten seconds. This action cuts the laptop's power and is equivalent to removing the battery. You might hear a noise while doing this.
Once you have held down the power button and released it, leave it off for a few seconds and then press it again to start the MacBook Pro as usual. If you're lucky, it will boot up. If not, the MacBook Pro will still not start, and you'll need to continue reading.
4. Reset the SMC
The System Management Controller is made to handle many crucial settings, including fan control, temperature monitoring, and others. As a result, anytime something goes wrong, you experience some issues, including slow performance, excessive fan noise, and even problematic launching. If you have gotten this far without a successful boot, try resetting the SMC on your MacBook Pro.
Unplug the laptop from the charger and peripherals.

Hold down Shift + Control + Option and the power button for ten seconds.

Let go of all keys and reconnect the charger.

Then, press the power button to boot your laptop.
If the MacBook Pro could not boot due to an SMC error, it should now boot normally. Once it successfully starts up, you will need to reconfigure some hardware settings, but this is a small price to pay to get your laptop working again. This setback is preferable to professional maintenance, which takes time and costs money.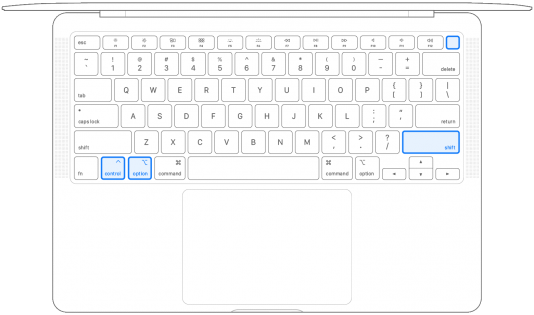 4. Reset the PRAM / NVRAM
Another reliable solution for fixing a dead MacBook Pro or an ill-functioning MacBook Pro that won't turn on is resetting the PRAM/NVRAM. For those unfamiliar with the terms, NVRAM (Non-volatile Random-Access Memory) and PRAM (Parameter RAM) are the areas in the memory of the device that store data such as volume settings, startup disk selection, screen resolution and even kernel panic information. Resetting them often fixes several minor issues which may be preventing your device from starting up.
To get going, hold down Command, Option (Alt), P, and R, keys at once and turn on the device. Make sure to hold down the keys until MacBook restarts again. Better still, let it restart twice. Then, release the keys at once. Now, your MacBook should restart normally if the issue was with the NVRAM/PRAM.
Important:
Though the M1-powered MacBook Pro does come with NVRAM, it works a bit differently on the device. Notably, Apple's M1-equipped MacBooks feature parameter memory where you can view and customize settings with the terminal command NVRAM. However, they don't allow resetting NVRAM.

5. Unplug your accessories
It may sound strange, but if your MacBook isn't booting properly, try booting it with everything unplugged.Any USB devices, printers, or other connections should be unplugged for the time being. After that, try restarting your MacBook Pro by pressing and holding the power button.
If your MacBook Pro is still not turning on, there is little you can do without voiding the warranty. It might be better to visit your nearest service center and have one of their technicians look it over. Hopefully, the experts will be able to get your laptop working again without affecting the warranty or making things worse!
6. Contact MacBook repair centre:
Hopefully, you successfully fixed your MacBook Pro's not turning issue, which was not turning on or was dead. We expect the tips mentioned above to work for you because they have helped many other users.
However, if your device is still not fixed after trying the tips mentioned above, there is a chance that there is a problem with the motherboard that requires chip-level logic board repair, which you cannot do at home.
Contact a MacBook repair center in this case. Lappy Maker is one of the most trusted MacBook repair centers in Delhi-NCR, providing doorstep yet cost-effective service for several years. Contact us soon to help you bring your MacBook Pro back to life.
Why choose Lappy Maker in Delhi?
Service at Your Convenience
You receive a FREE pick-up and delivery service for your MacBook at your Delhi location within the time period you choose. However, you may also take your MacBook to Lappy Maker Nehru Place for repairs.
Doorstep Service for Free

Assured Warranty on All MacBook Repairs

Usage of High-Quality Parts for All Replacements

Trained Professionals and Well Equipped Repair Centre

Pick up and Drop for Free

No Fix, No Fee

Multiple Payment Options